So, we have learned about the gods and their life on Mt. Olympus. Now, let's learn about the two gods of earth. You didn't think that the 12 gods of the mountain where the only ones, did you? Never. Mythology, as well as any good story, would be nothing without a battle between the gods of the "heavens" and the gods of the earth. After you have read the stories, watch this video to help solidify your knowledge of the story of Persephone and Demeter. When the webpage opens, click on Navigate and then Story time. Choose the story  of Persephone and Demeter and enjoy.
Now, for your weekly "FP" homework.
Mythological terms are common in contemporary society. For example, an odyssey is a voyage, as well as a minivan! As we learn more about the characters of Greek mythology, you may be surprised to discover many familiar words derived from myths. Search online at Encyclopedia.com or Factmonster, both links from the EDSITEment resource The Internet Public Library, or the searchable Perseus Encyclopedia, will help answer the following questions that are assigned to your family. If you are a member of  Rochester answer questions 1 and 2, a member of Creon answer questions 3 and 4, a member of Jupiter answer questions 5 and 6, a member of Brutus answer questions 7 and 8, a member of Bronte answer questions 9 and 10, a member of Pandora answer questions 11 and 12,  and for extra family points, anyone can answer 13-16, you will get 25 points for each one answered.   Post your answers in a comment at the end of the posting. Homework needs to be posted by Thursday's class. Have a great weekend.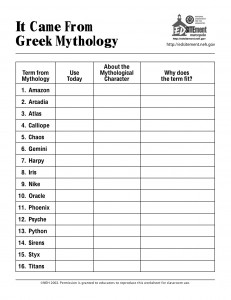 ** Links to outside web sources, do not reflect the view of CCM or CCHS.
NOTE: Unless  you have posted in the FP before, you will need to be approved. Write your post and submit it. I will approve it AND then it will appear to the class.